Introducing the Coke Ice 1500 by Yuoto 5, the ultimate vape device that sets a new standard in vaping technology. This cutting-edge product is a result of relentless innovation and craftsmanship, offering a delightful and refreshing vaping experience like never before.
Coke Ice 1500 by Yuoto 5 is a high-performance vape device designed to deliver smooth and satisfying clouds of vapor. It falls under the category of advanced personal vaporizers, catering to both beginners and experienced vapers alike.
Available in a sleek and modern black finish, the Coke Ice 1500 by Yuoto 5 exudes elegance and sophistication. Its compact and ergonomic design ensures a comfortable grip, making it the perfect on-the-go companion. With dimensions of [provide specific dimensions], this vape device fits easily into your pocket or bag, allowing you to carry it conveniently wherever you go.
Coke Ice 1500 by Yuoto 5 offers a user-friendly interface, making it easy for anyone to enjoy the pleasures of vaping. Equipped with a high-quality OLED screen, it provides clear and precise information about battery life, wattage, temperature, and more. The intuitive control buttons allow you to customize your vaping experience, putting you in complete control of the device.
What sets the Coke Ice 1500 by Yuoto 5 apart from the rest is its advanced technology and innovative features. Powered by a long-lasting and rechargeable battery, this vape device ensures hours of uninterrupted vaping pleasure. It supports multiple output modes, including variable wattage and temperature control, giving you the freedom to tailor your vaping style to perfection.
The built-in safety features, such as overheat protection, short-circuit protection, and low battery protection, ensure a worry-free vaping experience. The device is also equipped with a leak-resistant tank system, preventing messy spills and providing a consistently smooth draw.
One of the key highlights of the Coke Ice 1500 by Yuoto 5 is its exclusive "Coke Ice" flavor. Created to simulate the sensation of sipping a chilled cola, this flavor profile offers a refreshing blend of cola with a cool icy twist. Each puff immerses you in the delightful taste of your favorite beverage, making vaping an enjoyable sensory experience.
Coke Ice 1500 by Yuoto 5 Features:
Size: 19mm(D)*102mm(H)
Package size: 22mm*110mm

Salt Nicotine

: 5%/50mg
Battery Capacity: 900mah
E-liquid Capacity: 5.0ml
Puffs: ≈1500 puffs
Pack of 1 device
Check out all Yuoto disposable pods, click here.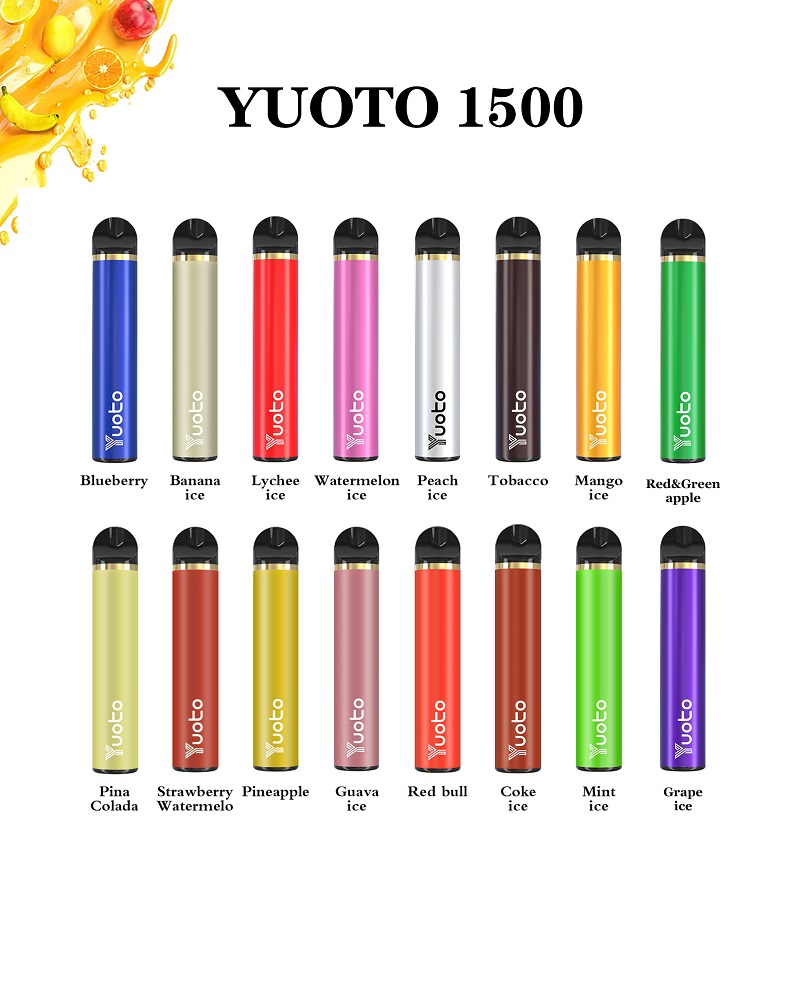 How to Use Coke Ice 1500 by Yuoto 5:
Power On/Off: Press the power button five times.
Adjust Settings: Use the "+" and "-" buttons to customize wattage and temperature.
Filling the Tank: Unscrew or slide open the top cap, pour e-liquid, and close securely.
Prime the Coil: Apply e-liquid to the coil and wait a few minutes.
Vaping: Press and hold the fire button while inhaling.
Charging: Connect the micro USB cable and charge until full.
Coke Ice 1500 by Yuoto 5 is exclusively available at Vape Riyadh Shop, the leading destination for premium vape products in Riyadh. As an authorized distributor of Yuoto 5, Vape Riyadh Shop ensures that you receive an authentic product with a warranty and unparalleled customer service.
Experience the future of vaping with the Coke Ice 1500 by Yuoto 5. Elevate your vaping journey with its exceptional performance, user-friendly features, and tantalizing "Coke Ice" flavor. Whether you are a seasoned vaper or new to the world of vaping, this device promises to redefine your vaping experience and become your go-to companion. Don't miss out on this revolutionary vape device; visit Vape Riyadh Shop today!