Ginger Pop by Vibez R – The Perfect Vape Experience
Introducing Ginger Pop by Vibez R – a remarkable vape flavor that will tantalize your taste buds and elevate your vaping experience. This unique product stands out in the market, delivering an exceptional blend of flavors and a smooth vaping sensation.
Ginger Pop by Vibez R is an exquisitely crafted e-liquid vape flavor brought to you by Vibez R, a renowned brand in the vaping industry. This exceptional product features a captivating amber-gold liquid that beckons with promises of a one-of-a-kind vaping adventure.
Distinguished by its impeccable blend of flavors, Ginger Pop by Vibez R offers a delightful harmony between zesty ginger and a burst of vibrant citrus notes. Each puff delivers a refreshing tang of ginger intertwined with the sweet and citrusy dance of ripe oranges and lemons. The carefully balanced flavors create a symphony on your palate, leaving a lasting impression that will keep you coming back for more.
The 60ml bottle size ensures that you have enough of this delightful concoction to enjoy for an extended period. Its conveniently designed bottle is easy to carry, making it the perfect companion for your vaping endeavors wherever you go.
Ginger Pop is designed exclusively for vaping, allowing you to indulge in smooth, flavorful clouds with every inhale and exhale. Whether you are a seasoned vaper or a newcomer to the world of e-liquids, this product guarantees a gratifying experience that will leave you thoroughly satisfied.
Experience the pleasure of Ginger Pop by Vibez R, available exclusively at the Vape Riyadh Shop. Grab your bottle today and immerse yourself in the perfect combination of ginger and citrus, bound to revitalize your senses and take your vaping journey to new heights. Elevate your vaping experience with the tantalizing essence of Ginger Pop by Vibez R.
Ginger Pop by Vibez R Features:
Salt Nicotine: 5%/50mg
Battery: 1500mAh
E-liquid Capacity: 7ml
Puffs: ≈2500 puffs
Pack of 1 device
Check out all Vibez disposable pods, click here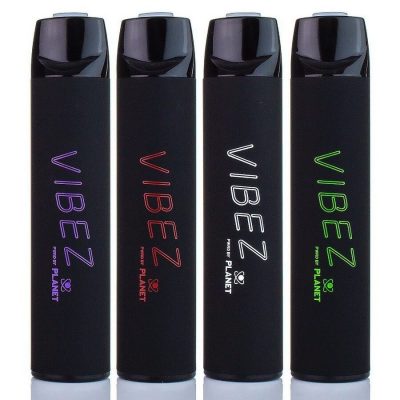 About Vibez
Vibez is a prominent and respected brand in the vaping industry, known for its commitment to providing vapers with an exceptional vaping experience. As a well-established player in the market, Vibez has gained recognition for its dedication to quality, innovation, and customer satisfaction.
Vibez offers a diverse range of premium vaping products, including e-liquids with unique and captivating flavors. Their products are carefully crafted using high-quality ingredients, ensuring a smooth and satisfying vaping experience for their customers.
Vibez is celebrated for its innovative approach to flavor creation. Their team of experienced mixologists continuously develops exciting and distinctive flavor combinations that cater to a wide variety of taste preferences, making their e-liquids stand out among competitors.
At the heart of Vibez's success is its customer-centric approach. They actively engage with their customers, value their feedback, and strive to meet their evolving needs. This dedication to customer satisfaction has fostered a loyal and supportive community of vapers who trust and rely on Vibez products.
Vibez places a strong emphasis on safety and compliance. Their products undergo rigorous testing to ensure they meet industry standards and are free from harmful substances, providing vapers with a worry-free vaping experience.
Vibez has made a mark on the international stage, garnering a widespread following of vapers from around the world. Their reputation for excellence has allowed them to expand their presence and influence in various markets.
As a forward-thinking brand, Vibez is continuously seeking ways to improve and innovate. They remain dedicated to refining their products and processes, staying at the forefront of the vaping industry.