Introducing the Strawberry Watermelon 1500 by Yuoto 5, a vaping device that takes your vaping experience to a whole new level. This exceptional vape product stands out among its competitors, offering a perfect blend of taste, convenience, and performance.
Strawberry Watermelon 1500 by Yuoto 5 is a sleek and compact vape pen designed for both beginners and seasoned vapers. It boasts advanced features and cutting-edge technology, making it the ideal choice for anyone looking to enjoy a satisfying vaping session.
Available in a stunning combination of luscious red strawberry and refreshing green watermelon, the Strawberry Watermelon 1500 boasts an eye-catching design that exudes vibrancy and elegance. The color scheme is not only visually appealing but also reflects the delightful flavors it delivers.
Crafted to fit comfortably in your hand, the Strawberry Watermelon 1500 by Yuoto 5 offers the perfect balance between portability and performance. Its compact design allows you to carry it effortlessly in your pocket or purse, ensuring you can enjoy your favorite vape anytime, anywhere.
Whether you are a beginner or a seasoned vaper, the Strawberry Watermelon 1500 by Yuoto 5 caters to all levels of expertise. Thanks to its user-friendly interface and straightforward operation, it's easy to use for those just starting on their vaping journey. For experienced vapers, this vape device provides customizable settings to fine-tune the vaping experience according to their preferences.
Strawberry Watermelon 1500 by Yuoto 5 Features:
Size: 19mm(D)*102mm(H)
Package size: 22mm*110mm
Salt Nicotine: 5%/50mg
Battery Capacity: 900mah
E-liquid Capacity: 5.0ml
Puffs: ≈1500 puffs
Pack of 1 device
Check out all Yuoto disposable pods, click here.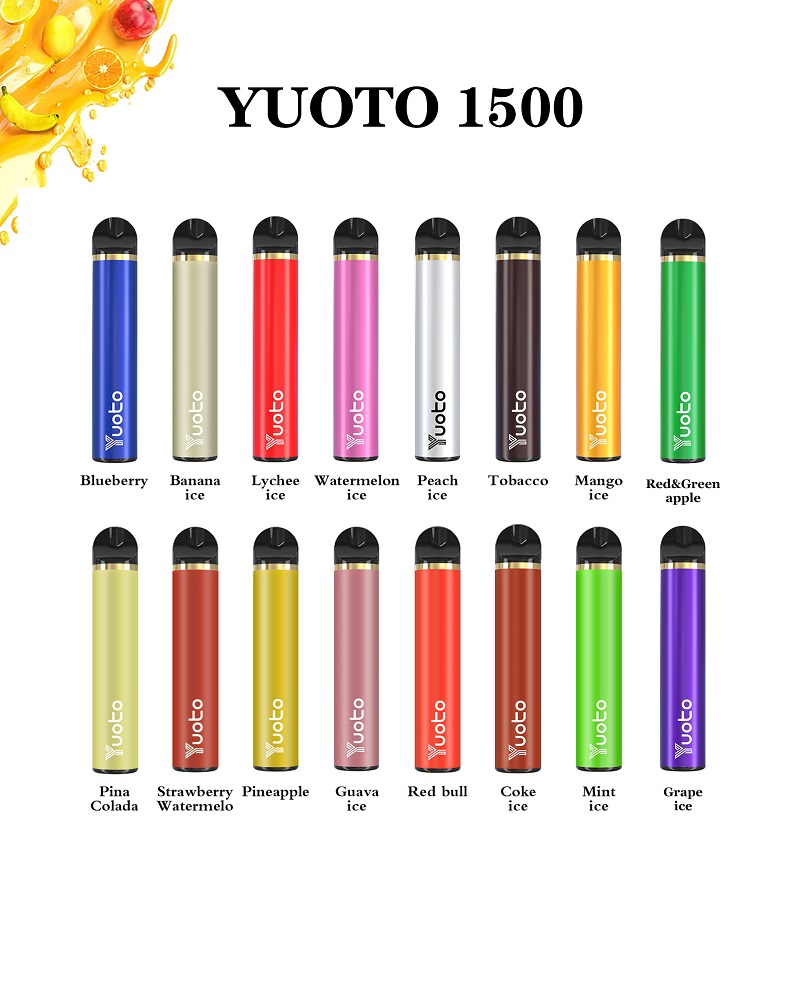 How to Use:
Fill the Tank: Unscrew the top cap of the vape tank and carefully fill it with your favorite Strawberry Watermelon e-liquid. Avoid overfilling to prevent any leaks.
Attach the Tank: Screw the filled tank onto the device securely. Make sure it is tightly fastened to avoid any leakage during use.
Power On/Off: To turn on the device, click the power button five times rapidly. The LED indicator will flash to signal that the vape is ready for use. To turn it off, repeat the five-click process.
Vaping: Once the device is powered on, simply press and hold the power button while inhaling gently. The Strawberry Watermelon 1500 will deliver a smooth and flavorful vapor for your enjoyment.
Charging: When the battery level runs low, it's time to recharge. Use the provided USB cable to connect the device to a power source. The LED indicator will show the charging progress, and once fully charged, it will indicate that the vape is ready to use.
When you purchase the Strawberry Watermelon 1500 by Yuoto 5 from Vape Riyadh Shop, you can expect exceptional service and support. The shop offers a dedicated team of vaping experts who are more than willing to assist you with any questions or concerns you may have about the product. Moreover, they provide quick and reliable shipping, ensuring your vaping experience begins without any delays.
In conclusion, the Strawberry Watermelon 1500 by Yuoto 5 is a top-tier vape product that promises an unparalleled vaping experience. With its delectable strawberry watermelon flavor, compact size, and user-friendly features, it stands out as a must-have for both beginners and seasoned vapers alike. Trust Vape Riyadh Shop to provide you with this fantastic vaping device and enjoy a taste of vaping bliss like never before.