Introducing Watermelon Breeze 1500 by PS Go, the ultimate vaping experience that will transport you to a refreshing oasis of flavor. Dive into a wave of luscious watermelon combined with a cool breeze that will invigorate your senses and leave you craving for more.
With Watermelon Breeze 1500, you can bid farewell to dull and monotonous vaping sessions. This premium e-liquid blend has been carefully crafted to provide you with an unrivaled taste that will tantalize your taste buds. Every puff bursts with the natural sweetness of juicy watermelon, creating a symphony of flavors that will make your vaping experience truly delightful.
Not only does Watermelon Breeze 1500 offer an explosion of flavor, but it also delivers a smooth and satisfying vaping sensation. The high-quality ingredients used in its formulation ensure a consistent and velvety-smooth vapor production, allowing you to indulge in clouds of pure pleasure.
Experience convenience like never before with Watermelon Breeze 1500. The sleek and portable design of the PS Go vape device allows you to enjoy your favorite e-liquid anytime, anywhere. Simply fill up the tank, inhale, and savor the blissful blend of watermelon and refreshing breeze.
Upgrade your vaping game with Watermelon Breeze 1500 by PS Go, available exclusively at Vape Riyadh Shop. Treat yourself to a truly remarkable vaping experience and let the flavors take you on a journey you won't forget. Don't miss out on this opportunity to elevate your senses and indulge in the ultimate vape. Order now and embark on a flavorful adventure!
Place your order today and unlock a world of refreshing delight with Watermelon Breeze 1500 by PS Go. Your taste buds will thank you for it!
Watermelon Breeze 1500 by PS Go Features:
Flavor Profile: Ice, Watermelon
Disposable Pod System
Nicotine Strength: 50 MG
Tank capacity: 5 ml
Life Cycle: Approximately 1500 puffs
Pack of 1 device
Check out all PS Go disposable pod flavors, click here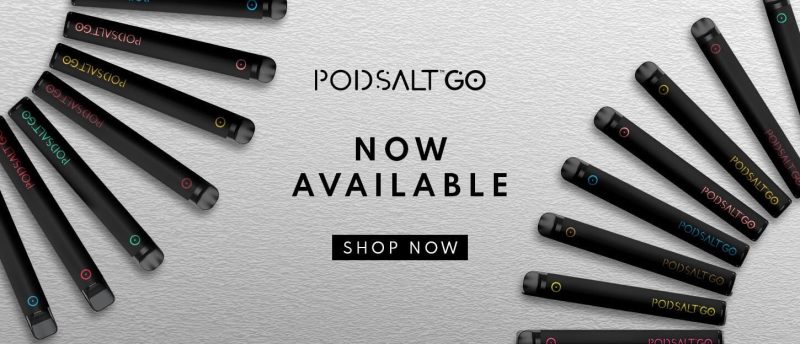 Pod Salt is a pioneering brand that has revolutionized the world of vaping with its exceptional range of nicotine salt e-liquids. Designed to provide an unmatched vaping experience, Pod Salt offers a unique formulation that combines high-quality ingredients and innovative technology.
What sets Pod Salt apart is its use of nicotine salts, a naturally occurring form of nicotine found in tobacco leaves. This innovative approach ensures a smoother throat hit and faster nicotine absorption, delivering a quick and satisfying nicotine rush without any harshness.
With a commitment to excellence, Pod Salt meticulously crafts each e-liquid to perfection. The result is a collection of flavors that will tantalize your taste buds and leave you craving for more. From classic tobacco blends to fruity concoctions and indulgent desserts, Pod Salt offers a diverse range of flavors to suit every preference.
One of the key advantages of Pod Salt is its convenience. The brand offers pre-filled pods that are compatible with various pod systems, making it incredibly easy to enjoy your favorite flavors on the go. Simply insert a pod, inhale, and immerse yourself in a world of rich and satisfying vapor.
Pod Salt is committed to providing a top-notch vaping experience without cutting corners. Every puff is a treat for your senses because of the brand's commitment to quality and unrelenting search for the right flavour.
If you're looking to elevate your vaping journey, Pod Salt is the ideal choice. Experience the extraordinary with their remarkable range of nicotine salt e-liquids. Treat yourself to the ultimate vaping satisfaction and unlock a world of flavor possibilities with Pod Salt.