Guava Ice 1500 by Yuoto 5 is the ultimate vape for connoisseurs of fine flavors and sleek design. This innovative vaping device brings together cutting-edge technology and tantalizing taste to deliver an unmatched vaping experience. Let's dive into the detailed description of this exceptional product:
Guava Ice 1500 by Yuoto 5 is a high-performance disposable vape pen, meticulously crafted to provide convenience and gratification in one package. It falls under the category of disposable vaping devices, which means you can enjoy its rich flavors without the hassle of refilling or recharging.
Elegance meets vibrancy with the Guava Ice 1500 by Yuoto 5. This remarkable vape pen features a lustrous and eye-catching Guava Ice color, setting it apart from the ordinary vapes available in the market. Its sleek and modern design perfectly complements the deliciously refreshing guava flavor it holds within.
Designed for portability and discretion, the Guava Ice 1500 by Yuoto 5 boasts a compact size that easily fits into your pocket or purse. Its ergonomic shape ensures a comfortable grip, making it an ideal companion for vaping enthusiasts on the go. Despite its small size, this vape pen packs a powerful punch, delivering consistent vapor production.
Guava Ice 1500 by Yuoto 5 is incredibly easy to use, making it suitable for both experienced vapers and beginners alike. No need to worry about complex settings or button presses. Simply remove the device from its packaging, and you're ready to savor the delightful guava flavor. The draw-activated firing mechanism ensures a hassle-free and smooth vaping experience.
Guava Ice 1500 by Yuoto 5 Features:
Size: 19mm(D)*102mm(H)
Package size: 22mm*110mm

Salt Nicotine

: 5%/50mg
Battery Capacity: 900mah
E-liquid Capacity: 5.0ml
Puffs: ≈1500 puffs
Pack of 1 device
Check out all Yuoto disposable pods, click here.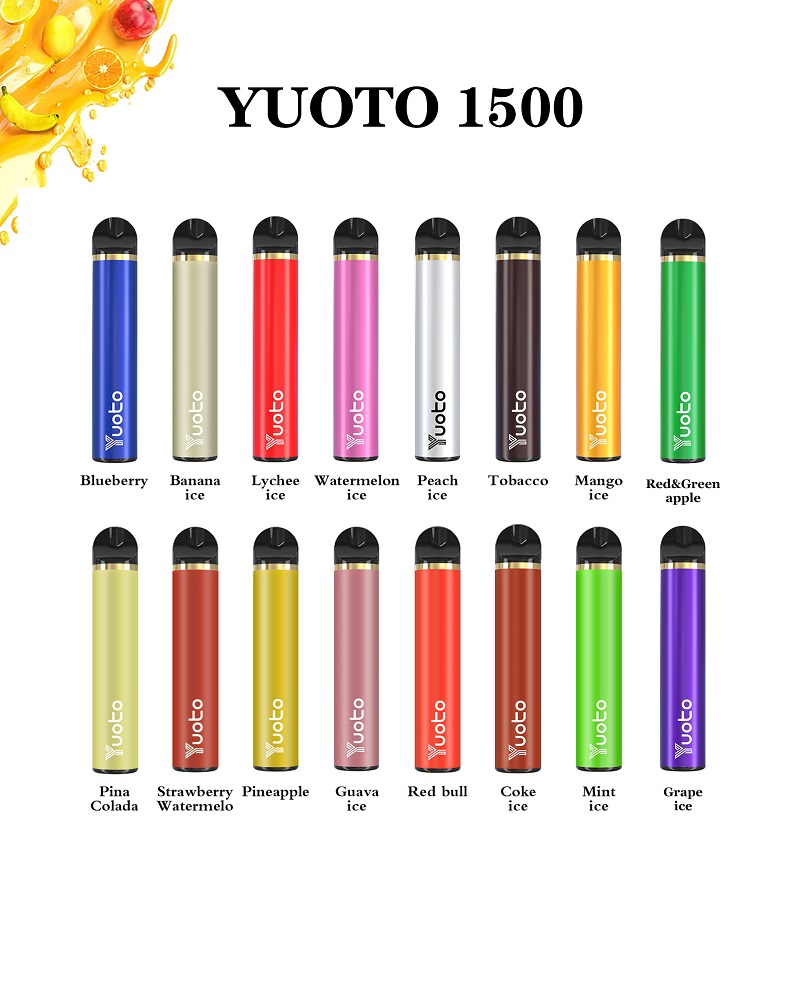 Indulge in the exquisite taste of fresh and juicy guava combined with a refreshing icy coolness. The Guava Ice flavor delivers a luscious fruitiness on the inhale, followed by a hint of menthol on the exhale, leaving your taste buds tingling with satisfaction. Each puff is a burst of tropical goodness that transports you to an island paradise.
Guava Ice 1500 by Yuoto 5 is designed to impress with its long-lasting performance. This disposable vape pen boasts an impressive 1500 puffs, providing extended pleasure before it needs to be replaced. Whether you're unwinding after a long day or socializing with friends, this vape pen will be there to deliver consistent flavor and vapor until the very end.
For our valued customers in Riyadh, you can find the Guava Ice 1500 by Yuoto 5 at our authorized vape shop in Riyadh. Experience the convenience of disposable vaping combined with the allure of premium guava flavor. Our knowledgeable staff will be delighted to assist you in exploring the extensive range of vaping products we offer, ensuring you find the perfect match for your preferences.
In conclusion, the Guava Ice 1500 by Yuoto 5 is more than just a vape; it's a testament to quality, flavor, and convenience. With its striking design, enticing guava flavor, and extended longevity, this disposable vape pen promises a vaping experience like no other. Embrace the taste of paradise and immerse yourself in the world of Guava Ice 1500 by Yuoto 5.
Don't miss out on the Guava Ice 1500 by Yuoto 5 – the perfect blend of tropical goodness and refreshing coolness! Place your order now from our Vape Riyadh shop and savor the delightful guava flavor with every puff. Click "Order Now" to experience vaping at its finest and have this exceptional vape pen delivered right to your doorstep. Hurry, limited stock is available!