Introducing the Berg 30ml by Innevape Salt: Elevate Your Vaping Experience
If you're a vaping enthusiast like me, always on the lookout for the next best thing, then you're in for a treat. Today, I want to share my personal experience with the Berg 30ml by Innevape Salt, a flavor-packed e-liquid that has taken my vaping experience to new heights. Whether you're a seasoned vaper or just starting your journey, this product deserves your attention.
The Flavor : The Berg 30ml by Innevape Salt
Let's dive right into the most exciting aspect of the Berg 30ml—the flavor. From the moment I took my first puff, I was captivated by the unique blend of flavors. Innevape Salt has truly crafted a masterpiece here. The Berg 30ml offers a burst of citrusy goodness, with a combination of sweet raspberries, tangy blueberries, and a hint of zesty lemon. The balance between the flavors is impeccable, creating a vaping experience that is refreshing, satisfying, and downright delicious.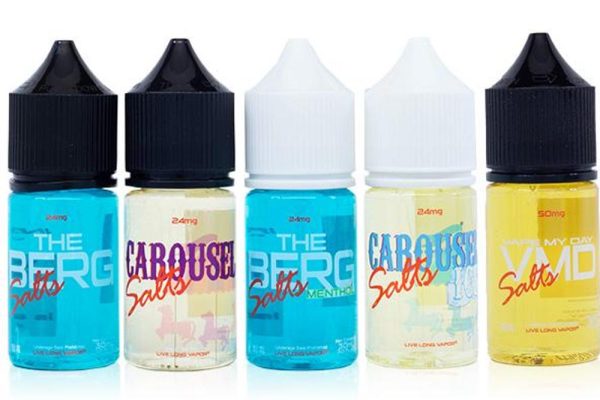 The Berg 30ml by Innevape Salt
One of the standout features of the Berg 30ml is its use of nicotine salt. If you've tried other e-liquids with freebase nicotine, you'll notice a significant difference. The nicotine salt used in this e-liquid provides a smoother throat hit, making each inhale effortless and enjoyable. This is particularly beneficial for those looking to transition from traditional cigarettes to vaping, as it mimics the sensation of smoking more closely. With the Berg 30ml, you can indulge in a satisfying vape without any harshness.
Unmatched Vapor Production
When it comes to vaping, vapor production is a crucial factor that can greatly enhance the overall experience. Innevape Salt understands this well, and they have delivered exceptional vapor production with the Berg 30ml. Each puff is dense and full-bodied, allowing you to enjoy thick clouds that add to the visual appeal of your vaping sessions. Whether you're a cloud chaser or simply appreciate a visually satisfying vape, this e-liquid won't disappoint.
Perfect Balance of VG/PG Ratio
The VG/PG ratio plays a significant role in determining the vaping experience. The Berg 30ml strikes the perfect balance with its 50/50 VG/PG ratio. This blend ensures a harmonious combination of flavor and vapor production. The higher VG content enhances the flavor profile and adds to the overall smoothness, while the PG component contributes to the satisfying throat hit and vapor density. With this well-crafted ratio, you can expect a well-rounded vaping experience that caters to your every need.
Compatibility and Versatility
One of the reasons why I appreciate the Berg 30ml is its versatility. It is compatible with a wide range of devices, including pod systems, refillable cartridges, and low-wattage vape pens. This compatibility makes it accessible to a larger audience, allowing vapers with various devices to enjoy the flavorsome experience it offers. Whether you're a fan of direct lung hits or prefer a more restricted mouth-to-lung draw, this e-liquid adapts effortlessly to your preferred vaping style.
Pros & Cons
Now, let's summarize the pros and cons of the Berg 30ml by Innevape Salt:
Pros:
Captivating flavor profile with a delightful blend of raspberries, blueberries, and lemon.
Smooth nicotine salt formulation for a satisfying and effortless vape.
Excellent vapor production, allowing you to enjoy dense clouds of vapor.
Cons:
Limited size options available, only available in a 30ml bottle.
In conclusion, the Berg 30ml by Innevape Salt has truly impressed me with its exceptional flavor, smooth nicotine salt formulation, and impressive vapor production. It caters to vapers of all experience levels, delivering a vaping experience that is both satisfying and enjoyable. While it may come in a limited bottle size, the quality and taste of this e-liquid make it a must-try for anyone seeking an elevated vaping experience. So go ahead, give the Berg 30ml a try and discover a new level of vaping pleasure.