The Berg Menthol 30ml by Innevape Salt
Are you tired of the same old e-liquids that fail to deliver a refreshing and satisfying vaping experience? Look no further, because I've got something truly special to share with you today. Let's talk about The Berg Menthol 30ml by Innevape Salt, a game-changer in the world of vaping. I've had the pleasure of trying out this fantastic e-liquid, and I have to say, it has completely transformed my vaping sessions. Get ready for a blast of icy coolness that will leave you craving for more.
Unleash the Coolness
The Berg Menthol 30ml by Innevape Salt is like a breath of fresh air on a scorching summer day. With every inhale, you'll be greeted by a wave of invigorating menthol that instantly awakens your senses. The coolness sweeps through your throat, providing a satisfying and refreshing sensation that's hard to beat. Trust me, it's the perfect antidote to beat the heat or to simply add a zing to your everyday vaping routine.
Smooth and Flavorful : The Berg Menthol 30ml by Innevape Salt
One thing that truly impressed me about The Berg Menthol 30ml by Innevape Salt is its remarkable smoothness. The e-liquid is expertly crafted, ensuring a consistent and enjoyable vaping experience with every puff. The blend of flavors is perfectly balanced, allowing the menthol to shine without overpowering the taste buds. It's a delightful symphony of minty freshness that keeps you coming back for more.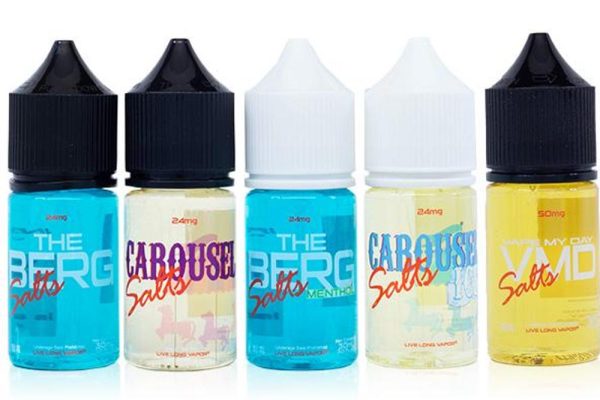 Quality Ingredients for Your Peace of Mind
When it comes to choosing an e-liquid, it's essential to prioritize quality and safety. Thankfully, Innevape Salt understands this and has gone the extra mile to ensure their products meet the highest standards. The Berg Menthol 30ml is made with premium ingredients, ensuring that you can vape with confidence. It's crafted using top-notch nicotine salts that provide a smooth throat hit and a quick nicotine delivery, satisfying your cravings without any harshness.
Versatility at Its Finest
Whether you're a fan of pod systems or refillable devices, TThe Berg Menthol 30ml by Innevape Salt has got you covered. This versatile e-liquid is compatible with a wide range of devices, allowing you to enjoy its exceptional flavor and coolness, no matter what setup you prefer. It's perfect for those who like to switch between devices or for vapers who want to explore different vaping styles without compromising on taste or satisfaction.
A Cut Above the Rest
In the vast sea of e-liquids, The Berg Menthol 30ml by Innevape Salt stands out as a true gem. Having tried various menthol e-liquids in the past, I can confidently say that this one takes the cake. The attention to detail, the quality of the ingredients, and the impeccable flavor profile all contribute to an unparalleled vaping experience. If you're tired of mediocre e-liquids that fail to deliver, it's time to upgrade your vaping game with The Berg Menthol 30ml.
Pros:
Refreshing menthol blast that invigorates your senses.
Smooth and consistent flavor for an enjoyable vaping experience.
Made with premium ingredients and nicotine salts for peace of mind.
Cons:
Limited flavor options may not cater to vapers with diverse taste preferences.
In conclusion, The Berg Menthol 30ml by Innevape Salt is a must-try vape juice for anyone seeking a refreshing and satisfying experience. Its unique flavor profile, smooth nicotine salt formula, and impressive vapor production make it stand out from the competition. While it would be great to have larger bottle sizes available, the 30ml option is still a convenient choice for everyday vaping. Trust me, once you give The Berg Menthol a try, you'll find it difficult to put down. So go ahead, indulge yourself in this flavor-packed adventure and elevate your vaping experience to new heights!