Introducing the Energy King 1500 by Yuoto 5, a revolutionary vape device that embodies innovation and style. This cutting-edge product redefines the vaping experience, setting new standards for performance, design, and usability. Whether you're a seasoned vaper or a beginner looking to explore the world of vaping, the Energy King 1500 is the ultimate choice.
Energy King 1500 by Yuoto 5 boasts a series of remarkable features that set it apart from other vape devices on the market. Its advanced technology ensures smooth and consistent vapor production, allowing you to savor every puff without any unpleasant surprises. The ergonomic design provides a comfortable grip, making it easy to carry and use throughout the day.
Energy King 1500 by Yuoto 5 is a top-of-the-line pod vape system, that combines the convenience of pod-based vaping with the performance of a high-end device. It comes equipped with a rechargeable battery that guarantees extended vaping sessions without compromising on power or flavor.
Express your personality and style with a range of attractive color options. From classic black and sleek silver to vibrant red and stylish blue, the Energy King 1500 offers a variety of choices to match your preferences.
With its compact and lightweight design, the Energy King 1500 by Yuoto 5 is the ideal companion for those on the go. Slip it into your pocket or purse effortlessly, and enjoy vaping wherever and whenever you please.
Energy King 1500 by Yuoto 5 is incredibly user-friendly, even for beginners. It features a simple one-button operation, allowing you to start vaping with just a single click. The device is equipped with a smart sensor that automatically activates the heating mechanism upon inhalation, ensuring a seamless vaping experience.
Energy King 1500 by Yuoto 5 Features:
Size: 19mm(D)*102mm(H)
Package size: 22mm*110mm

Salt Nicotine

: 5%/50mg
Battery Capacity: 900mah
E-liquid Capacity: 5.0ml
Puffs: ≈1500 puffs
Pack of 1 device
Check out all Yuoto disposable pods, click here.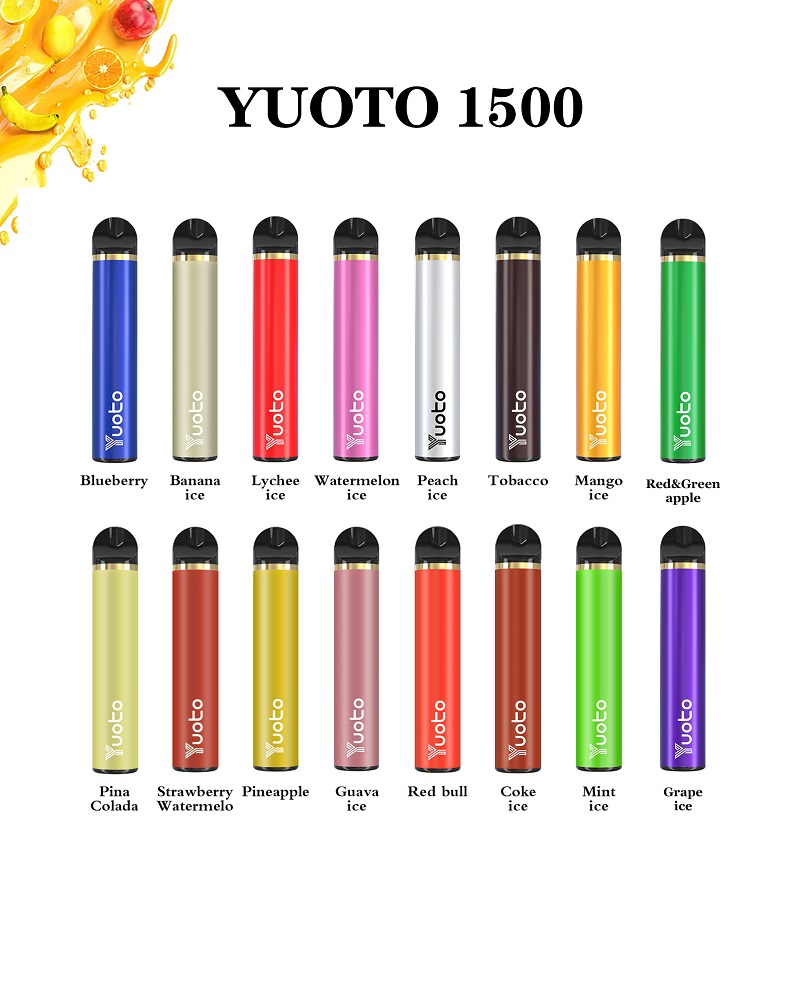 How to Use:
Charge: Before your first use, charge the device using the included USB cable until it reaches full capacity.
Fill the Tank: Unscrew the tank from the device and fill it with your preferred e-liquid. Be cautious not to overfill to prevent any leaks.
Adjust Settings: Turn on the device and use the intuitive control panel to adjust wattage, voltage, or temperature settings according to your vaping preferences.
Vape Away: Once you've set your desired parameters, press the fire button and inhale comfortably to enjoy the delightful vapor produced by the Energy King 1500.
Safety Precautions:
Battery Care: Always use the provided charging cable and avoid leaving the device plugged in unattended for prolonged periods.
Coil Replacement: Regularly replace the coil to maintain optimal performance and prevent burnt or off-tasting hits.
Liquid Compatibility: Use only high-quality e-liquids suitable for your device to prevent damage and ensure the best flavor delivery.
Storage: When not in use, store the Energy King 1500 in a cool, dry place away from direct sunlight or extreme temperatures.
At Vape Riyadh Shop, we take pride in offering top-notch customer service to ensure your complete satisfaction with the Energy King 1500. Our team of experts is ready to assist you with any questions or concerns, helping you make the most out of your vaping experience.
Experience the next level of vaping with the Energy King 1500 by Yuoto 5, available now at Vape Riyadh Shop. Elevate your vaping journey and indulge in unparalleled performance, style, and satisfaction. Grab yours today!